If you are designing a social media strategy, one of the things you cannot forget is that portion of measurement, in which you'll know if your tactics are working or not and if you are serving (or getting close to) your goals. To do this we use the KPI (Key Performance Indicator), which usually translated as "Key Performance Indicators". Social media KPIs are metrics we use to measure our progress. Let's see what the main KPIs in social networking are and what are best suited to each type of target.
How to define KPIs on social networks?
When designing our social networking plan, one of the first things we have to do is set the goals we want to achieve. These objectives are that will affect the rest. Depending on what our goal, we will define several tactics to achieve them. For example, if our goal is to increase traffic to our website, we may use such tactics increase the number of posts that we publish on our blog and strengthen the distribution of this content on social networks. Once we have set the goals and established tactics to carry out, we have to decide what the most appropriate way to measure results is.
In the example we have set, to see if the tactic of increasing the number of posts we publish on the blog is working, we would have to see how much traffic provide every post and what increase has occurred with respect to number of visits we had before. To find out if the tactic to strengthen the distribution of content on social networks is functioning, we would have to analyze the amount of traffic coming into the network from social networks in general and of each one of them, in particular.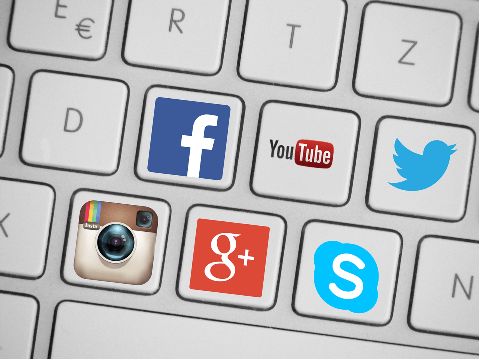 That way we would know if we are fulfilling our goal or at least we are on the right track and if our tactics are giving the expected results. The tool that gives us this information (and much more) is Google Analitycs, but in the social networks the procedure is similar.
A common mistake is to base the success or failure of our strategy in the size of our community, i.e. the number of fans on Facebook and followers on Twitter, Instagram, etc. However, that is only a metric that is useful for certain purposes. In the above case, for example, that we aim to increase traffic to our website, the number of followers is not relevant.
Main KPIs in social networks
Depending on the social network with which we work, the KPIs or metrics are different.
KPIs on Facebook are:
Number of like (fans) of the page and Unlike
New like with respect to the previous reporting period
Total page views
Number of interactions: no reaction, no comments and no shared
Wall posts and received page messages
Scope of publications
The KPIs on Twitter would be:
Number of followers
New followers with respect to the previous reporting period
Interactions: replies, RTs, favorites, mentions
Number of impressions
Clicks on links
The KPIs on YouTube are:
Total Plays Channel
New views with respect to the previous reporting period
Total Channel subscribers
New subscribers compared to the previous reporting period
Interactions likes, comments, shared videos
Traffic source
The KPIs in Instagram are:
Number of followers
New followers with respect to the previous reporting period
Interactions: likes, comments
No of impression
Although it is not a social network, Google Analitycs is a fundamental analytical tool and it is common to have to use it because it provides information about our performance and achieve our goals. The KPIs in Google Analitycs would be:
Number of page visits
Unique visitors
Page views
Bounce Rate
Average duration of visits
Traffic source
Percentage of traffic generated through social networks (and every social network in particular)
As stated above, these metrics are valid only if they serve to measure the effectiveness of our tactics; therefore we will not use them all. Depending on our goal, we will decide what we need to measure. Let's achieve.
In the event that our goal is to increase awareness of the brand, the KPIs on social networks that we consider are those related to the size of the audience: fans on Facebook, subscribers on Youtube, followers on Twitter, Instagram, etc.
If our goal is engagement, then we have to measure interactions: number of likes in our publications (or other reactions in the case of Facebook), number of comments on our publications, number of shares…
If our goal is to reach new clients, the KPIs that matter most are the new fans on Facebook, new followers on Twitter (and other networks) and the number of visits to blog.
If we pursue is to improve our online reputation, social media KPIs we need are the number of reviews, the percentage of positive versus negative comments.
KPIs tools for measuring social networks
Now that we know what we measure, we need to decide which tool we will use in each case. In the case of Facebook, the tool statistics can serve to obtain all necessary data. For other social networks, even if you use the features included in each platform (eg, Twitter Analitycs) It is advisable to use other tools for social networks that provide much more complete reports, which provide data that otherwise would not find or allow you to perform a filtering of these data.
Let us assume that our goal is to reach new clients through social networks. In addition to measuring how our online community is growing in each of our profiles, it is important to know whether these users match our target audience; for example, if we have a local business, should be users with the same location as our business. There are several recommended tools to perform this analysis, such as Audiense, Social Sprout, Crowdfire.
A good option is to create a staff of report that includes all KPIs in social networks that we manage and the frequency with which we measure. Each month (or the period we set) would go adding the data and could make the comparison with the previous month to clearly see the evolution. Remember that social media plan is never closed; it is necessary to reformulate the objectives and modify our tactics, reinforcing that work well and reformulating or suppressing those who do not obtain the expected success.