You want to create your first blog and looking for a free system? You're lucky because you have many to choose from. We collect four of the best free blogging platforms and analyze their advantages and disadvantages.
Blogger
Blogger is Google blogging platform and is a favorite for bloggers who are looking for a simple system.
Advantages:
The account is free.
It is integrated with other Google services, including Analytics, AdSense or Google+.
The process of creating a blog is very fast, within minutes. No technical knowledge required.
You can edit the HTML of your template to suit your taste, but you need to master this language.
Disadvantages:
The template designs have been somewhat out of date.
You cannot use plugins.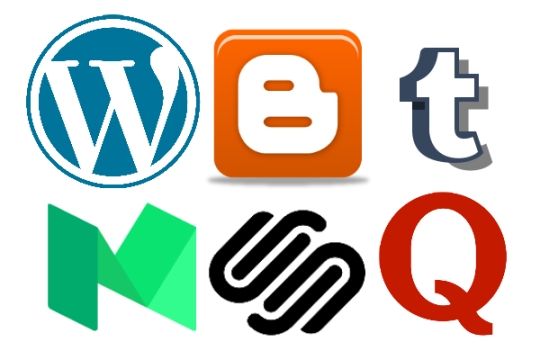 WordPress.com
Blogging platform created by automatic. Not to be confused with WordPress.org, this is a more complex and powerful software.
Advantages:
The service is free. You can access some improvements in the service with the payment of a fee.
If you want to spend further on to WordPress.org the process it is simpler from WordPress.com than from other platforms. The knowledge you gain with WordPress.com can serve you in the future to use WordPress.org.
Operation is simple and the creation of the blog is very fast.
WordPress.com themes designs are more professional and clean.
Disadvantages:
It does not allow to use Google Analytics, and its statistics program is somewhat limited.
Monetization options are limited.
Some of the WordPress themes can become very expensive.
You cannot alter the template by editing the HTML.
Tumblr
Tumblr is one of the free microblogging platforms acquired by Yahoo. It emerged as an alternative to half way between blogs and traditional short messages on Twitter.
Advantages:
The king of the simplicity, you will not find anything easier.
Designed for visual content or short content.
Post is a matter of minutes.
Aimed at a young audience.
It allows you to use Google Analytics.
Disadvantages:
It is more limited for the creation of complex blogs.
Medium
To be precise, Medium is not a blogging platform but is settling as a good alternative for people who want to share their opinions on the internet without the hassle of maintaining a blog.
Advantages:
Simple and minimalist design, so that to make the content that brings more attention.
The handling is very simple.
It has a large community of users and that expands the possibilities of your content to reach new audiences.
Disadvantages:
It lacks many of the features of other blogging systems, such as static pages.
We hope that you can try the free blogging platforms and opt by which more suits you best for your project or enterprise.