Do you feel you have not enough space on your Adwords ads to write down everything that you want. Well you're in luck, because Adwords has expanded the number of characters in mobile devices ads. This new format is called expanded text ads and you can already use it in your account.
Adwords Expanded text ads are great an opportunity for advertisers. With this new ad format you will have still more space to promote your products and transmit their advantages in the famous search engine ads.
This type of ad for mobile devices is now available as an option, but from 26 October will be the only existing format. Since that date may not create standard text ads for smartphones and tablets. Google knows that navigation on mobile devices is very important, and that's why introduced this innovation.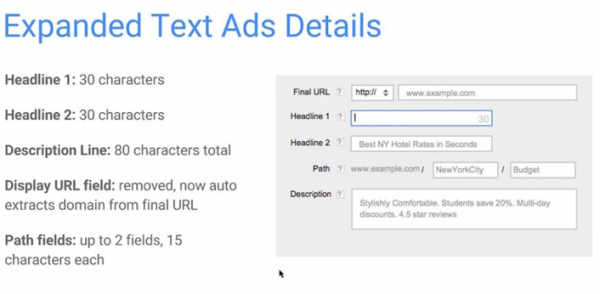 Features of Google Adwords expanded text ads
The ads are designed to work only on mobile devices (smartphones and tablets) on the Search Network and Display Network.
These are the main new features of this type of ad:




Title fields have two instead of one, to be displayed in a row and separated by a hyphen. Depending on the size of the screen may be displayed in two lines. Each title has a limitation of 30 characters. It involves much more space compared to the 25 characters of the standard ad title.
The two description lines are joined in one of 80 characters. Here also increase the available characters, because before each description had 35.
The display URL is based on the destination URL. There are also two fields of route, which are added after the URL visible to the user to know what will be found if they click on it. Each path field has 15 characters.
These are compatible with ad extensions.
Start now to use expanded text ads
To use this new format just create a new text ad, and will appear selected by default. If you want to create a standard ad, simply pinches "Return to use the standard text ad".
When you're creating your Adwords ad will show the preview for computers and mobile devices.
From October 26 you can not create standard ads, although those who have created before is continue to publishing in their campaigns.