Perform active listening on the Internet is one of the most important functions of community managers, because every conversation is a business opportunity. To monitor social networks there are many tools, sometimes it is not necessary to complicate using several different. Hootsuite, besides being a great software programming also it serves to listen to social networks. We offer you three tracks to begin monitoring with Hootsuite to your customers and your competition.
Twitter is the social network more interesting to perform monitoring, since almost all the users have their public profiles. By contrast, in Facebook many conversations are private and cannot be detected by search engines.
We suggest you use the Twitter search columns in different ways to always keep up to date of what is said about you or your competitors. Once you have your active monitoring columns, simply find a routine to check them every day and interact with users. That way you'll get followers and gain relevance.
Use the Twitter search columns
Search columns allow you to monitor keywords or hashtags that you choose. For example: the name of your brand, your products, and your competitors… is updated in real time, so you never miss anything.
Not sure how to look? See examples that Hootsuite offers you with search ideas. You can use quotation marks if you want that Hootsuite looks for an exact word (for example: "men's sunglasses").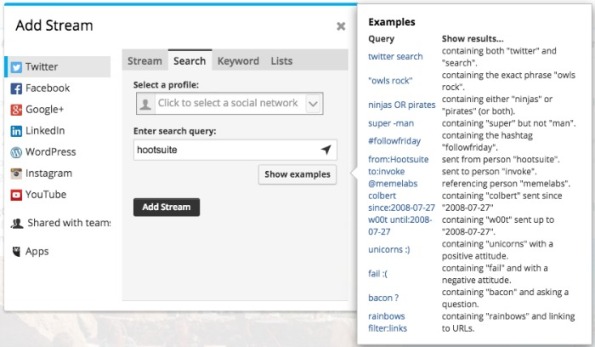 Use geo-located searches
To find out what your buyers are saying or potential clients, a good strategy is to use geo-location search on Twitter. This function looks for messages thrown concerning a geographical point, with a 25 kilometers radio.
We recommend this technique primarily to local businesses (bars, restaurants, hotels, gyms …) because they allow contacting most nearby Twitter users and that have more probabilities of turning into customers.
To search for messages near your location uses the lookup column of Twitter as you always do. Enter search terms and then click the arrow symbol that appears on the right. Hootsuite seek your location and add it to your search.
Click on "Add column" and will already be list your geo-located tweets.
Follow your competitors with private lists
Private lists allow reading one or more of Twitter users without having to follow them in this network. Although you can read the lists from Twitter itself, it is much more comfortable doing it in Hootsuite because you can see all your lists in one place and also interact.