When you upload your videos onto social media platforms – what resolution do you normally use? Some social platforms that are built around videos (i.e. YouTube) deal best with conventional videos in a 16:9 aspect ratio and HD resolutions of either 1080p or 720p. However that does not always hold true.
Different 'Native' Resolutions and Displays
Some social media platforms display videos differently – and as such use various other 'native' resolutions. A good example of this is Instagram, which can display videos either in a 16:9 aspect ratio and 1920×1080 (1080p) resolution or a 1:1 aspect ratio and 1080×1080 resolution. On mobile devices in particular a 1080×1080 video will take up more screen space – which is what you would want your videos to do.
Another new format that is gaining ground are vertical videos – which use a 9:16 aspect ratio (since they are in full portrait). Although new on platforms such as Facebook, it is quickly being favored as it displays better on mobile devices.
See also: How to properly re-use video content across different social media platforms?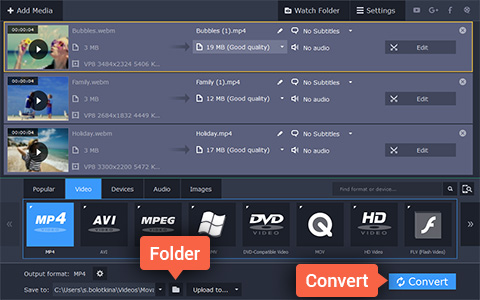 Find Out the Recommended Resolution
As you can see although the conventional 1080p or 720p resolutions may work – they aren't necessarily best in some situations. That is why it helps to find out the recommended native resolutions and adjust your video accordingly so that it is displayed as effectively as possible.
At times you may be able to record in the resolution that you need – but in other cases you may want to adjust your video resolution by either resizing it or cropping it. As a rule of thumb it is better to crop than alter the aspect ratio – as the latter will change the appearance of your video.
If you are looking for an easy way to convert your video resolution then you should try Movavi Video Converter. All you need to do is add your video and pick a preset in the format and resolution that you want and it will convert your video accordingly.
Recommended topics: How to create a video on Facebook
Additionally you could also use the other features in Movavi Video Converter to cut and join segments of video, enhance the video quality, add customizable text, or crop the frame of the video itself. It can also handle image and audio files, and create animated GIFs from your video clips or extract audio tracks from them.
The options that Movavi Video Converter provides should help you to cover all the bases you need and prepare your video for any social media platform. By ensuring it matches the ideal native resolution, you will find that it is displayed a lot better after it is uploaded.